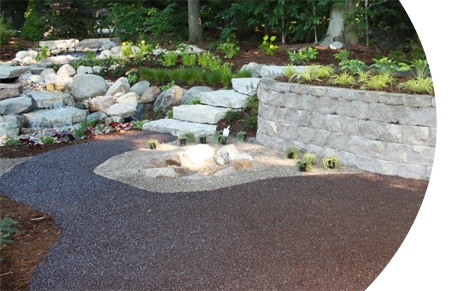 Porous Pave is a recycled tire aggregate mix, bound together with a proprietary binding agent. This sustainable paving solution is used as an alternative to concrete and asphalt. A highly porous substrate, Porous Pave allows incredible levels of groundwater recharge.
A Superior Paving Solution
Most porous concrete and asphalt is limited to an approximate 8% slope because the void capacity will collapse on itself. Porous Pave can be placed up to 33% slope without loss of permeability voids. Furthermore, Porous Pave is a class B fire rated product, which means it will not sustain fire by itself without an accelerant.
An Environmentally Friendly Solution
Groundwater recharge is an essential component of any solution to communities with runoff problems. Porous Pave's porosity allows the aquifer to recharge, with great benefit to residential homes, commercial properties, and municipal storm systems. The rubber component has had all the metal removed, so there's no issues with leaching commonly found in tire-derived products. A tire is removed from the waste stream for every 3 square feet of Porous Pave installed.
Benefits
Stormwater management
Environmentally sensitive
Balanced groundwater recharge
Healthier tree &amp plant systems
High grade capacity
Comfortable walking surface
Low impact installation